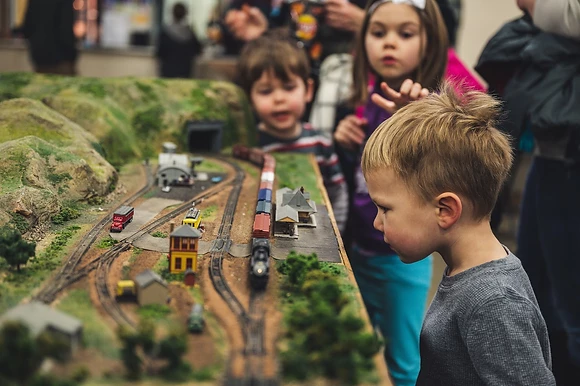 9

Aug

Jason Thickpenny
How to Get Started with Model Railways
Many families are finding themselves with more time together at home as a result of the current coronavirus pandemic. Keeping both children and adults entertained day-in-day-out can be challenging.
Model railways are a great hobby for every member of the family, young and old. They provide a safe and fun way for children to "make new worlds, narratives and stories" and can give older people a sense of community and purpose. Celebrity fans of modelling include Rod Stweart, Walt Disney and Frank Sinatra. Stewart has such passion for the pastime that he recently donated £10,000 to the Market Deeping Modern Railway Club when it lost years of work due to vandalism.
But how do you get started building your first model railway? In this beginner's guide, the Rocket Railways team will give you all the information you need to start creating a model railway layout the whole family can enjoy.
Understanding Model Railway Terms
At first glance, the world of model trains can be a little overwhelming and confusing. What does "gauge" mean and what exactly is a "Z scale"? We've put together a brief glossary of key terms for beginner modellers. You'll be surprised how quickly you and your family get to grips with this new "language" once you start playing and having fun!
Alternating Current (AC) – Electric current which changes the direction of flow through a wire
Block – There are electrical and signal blocks. Blocks give the modeller control over the track by isolating part of the track (electrical) or restricting access to one train only (signal)
Coach – A vehicle used to transport passengers; these are available in different gauges, such as OO and N, to fit different sizes of track
Digital Control Command (DCC) – DCC is a standard digital control system for model railways. They range from simple to highly complex
Figure Eight – A continuous layout design where the track crosses over itself to form a figure eight
Gauge – The distance between the two running rails on a piece of track. The gauge is normally defined by a letter, such as OO, N, HO and O
Layout – The layout is how a track and the surrounding scenery is set out. This could be in a figure of eight or any formation that suits the desired scale and preferences of the modeller
Points – The moveable rails of a switch
Volt – A unit of electrical pressure. Different voltages are used for different scales of model railway
Scale – Defines the size of the train. The scale is usually given as a number such as 1:87 for HO scale trains. A full train has a scale of one. The numbers after the colon define its size when compared to a full train. A 1:87 scale train is 87 times smaller than a full train.
Sidings – A track that runs outside the main track where trains can meet or pass
Switch – A track switch allows the track to split, sending trains in two directions. An electrical switch can be used to turn the current on or off or to divert it
Of course, there are many more words in the vocabulary of an experienced model train enthusiast, but these terms will help you get started.
Essential Kit for Beginners
There are thousands of amazing products to choose from when you first start looking at model railways. But this is a hobby that can be enjoyed for years to come and one that can be shared and passed down to future generations. Beginners can get started with a few essential pieces of kit and grow this over time.
Baseboards – the foundation of the railway layout. This can be made from a wide range of materials, from plywood to hard foam. Consider the space you have available and choose a size that fits.
Tools – it's worth investing in high-quality tools that will provide accuracy and durability. Essential items include a modelling light, screwdrivers, knives and cutting boards, sanding equipment, rulers, a set square, drills, clamps and paintbrushes.
Scenery – Perhaps not strictly "essential" if you're just keen to get up and running and let the kids (and grownups!) have a play, but adding scenery to a railway layout makes it a lot more fun. Add buildings, trees and more to create a whole new world for your family to escape into. Work together to assemble and paint new settings for your railway layout.
Control System – this can be analogue or digital. DCC systems are increasingly popular as they simplify the wiring and allow greater flexibility and control.
Trains and tracks – An absolute must! There is a wide range of track and train sizes and styles to choose from. Have a browse in our online store. If you're not sure where to start or can't see what you're looking for, get in touch, we'd be happy to help.
Building Your First Railway Layout
Find a space for your first railway layout and choose a scale that is practical
Choose a theme – this could be a particular period of time or a favorite setting
Plan a design and buy the items you need. There is no "right" way to build a model railway. Have fun trying different things out as a family. However, when planning your design, you might like to consider the gauge, scale, track type, layout, scenery, points, stations, sidings and the number of trains you want to run at any one time
Build a baseboard. Consider the size and weight of the baseboard. If you have a space that can be permanently devoted to model trains, a fixed baseboard is a great idea
Select a ballast. Ballast is a material laid under the track to hold it in position, reduce noise and improve the overall appearance of the layout. Choose a ballast that will help your track look and run as you want it to. There is a variety of sizes and colours to choose from
Lay the track. Typically, this is done by nailing the track to the baseboard with pins
Set up the electronics. This could involve signals and point motors or a DCC. Test that everything is running smoothly and make any tweaks necessary. This can be a fun and educational exercise for children and adults alike!
Add scenery. Let the kids set their imaginations free and create an exciting new world of play and adventure. Add buildings, people, bridges, trees and more
Further Tips and Advice
There are many sources of helpful tips, advice and inspiration online, including:
And don't forget to seek out your local model railway club and get the whole family involved with this fun local community.
The team at Rocket Railways would be happy to help you take your first steps towards an exciting new family hobby in building model trains. We started the company to help families enjoy spending time together by sharing in the fun and creative world of model railways.
Check out our online store and drop us an email with any questions.
The team at Rocket Railways would be happy to help you take your first steps towards an exciting new family hobby in building model trains. We started the company to help families enjoy spending time together by sharing in the fun and creative world of model railways.
Check out our online store and drop us an email with any questions.
Jason and Aimee