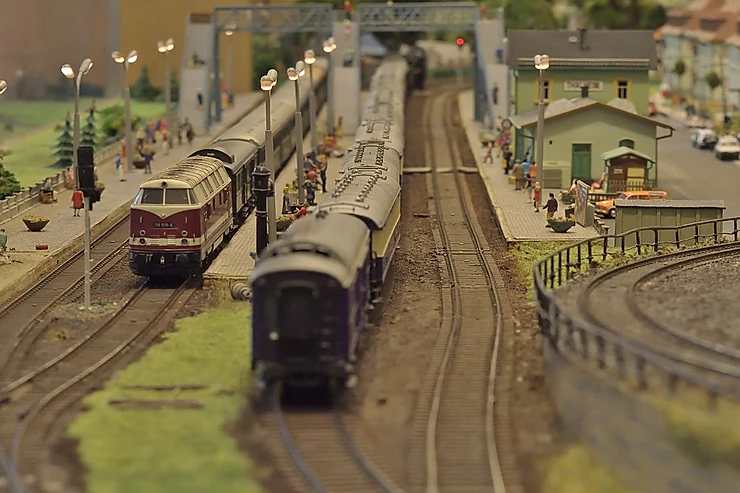 9

Aug

Jason Thickpenny
Why the nation loves Model Railways
It is said that 'it takes all sorts to make a world'. Just as our society is enriched by
diversity, we also celebrate our common interests. For more than a century, model
railways have delighted adults and children alike. They appeal not only to an interest
in trains, but also to a desire to construct miniature worlds over which the modeller is
in control. These working models bring joy to many – all sorts in fact!
Model railways give us a sense of travel without the need to leave our own homes.
They are unique among modelling. Unlike model boats or aircraft, a model train needs
its own railway network in which to operate – the modeller has complete control over
its journey. In 1924, leading model railway firm Bassett-Lowke wrote: 'Herein lies the
peculiar attraction of model railways, as compared with every other form of the
modelling art. All the wide variety of railway operation may be worked out on a small
scale'.
There is so much more to model railways than just trains and track.
A brief history of railway models
Model making is an activity with ancient origins. Archaeologists have discovered clay
models of houses and temples from 6000 – 3000 BC.
Models help us understand our surroundings, and communicate our sense of place to others. They may represent something which already exists, or provide a scaled down version of something yet to be made. Alternatively, models can also represent something fantastical from myth or legend.
Unsurprisingly, railway models have been around for almost as long as the full-size
versions. Initially, scale models of locomotives helped engineers solve problems in
miniature, but these were no play-things. The first model trains suitable for the home
came in the late 1860s in the form of clockwork toys.
Electric models emerged some 30 years later, bringing with them the first mass market railway sets. However, clockwork locomotives continued to be popular until the mid-20th century.
In Britain, model railways were initially popularised by Wenman Joseph Bassett-Lowke
and later Frank Hornby. The advent of model railway enthusiasm came about at the
same time as what some call the 'golden age' of railways, when grand steam locomotives captured the nation's imagination.
Though the range of models has developed over time to reflect changes in the real world, steam locomotives still remain a popular choice for modellers.
The art of creation
Whether the inspiration for a model is based on a real place or a fictional landscape,
the act of creating a layout is a profoundly creative process from the very start. The
construction of a model railway requires a vast range of skills. Besides collecting
models and making scenery, modellers also utilise skills in research, design, planning
and management. Furthermore, model layouts are brought to life through story-telling
and feed our imaginations.
Though the baseboard may be empty at the birth of a model railway layout, the
modeller will be brimming with ambitions and ideas. Creating a world in microcosm,
you make the rules, deciding the location, era, and scale. Even layouts faithfully based
on real locations require imaginative approaches and problem solving.
Speak to any veteran modeller about their layout, and it is likely they will tell you, 'I've
been working on this for about 15 years, but it's not quite finished yet. I don't suppose
it ever will be.' Model railways develop over time, and plans often evolve. They
represent a commitment over many years. What might appear a final result to one
person to be may only be a half-way point for another. The process of bringing a layout
into being is one filled with excitement and discovery.
The train now standing
Railway layouts are both products of our imagination and miniature landscapes in
which we may play out our own stories. Though some like to run their trains according
to a set timetable, acting out predetermined routines, others prefer a more spontaneous approach. Whether you're recreating a Sunday service on a sleepy branch-line of the 1950s or the jostling of rush hour at a modern city terminus, the trains move under your direction.
With nobody to answer to but themselves, modellers make their own choices. In this
miniature world, the operator decides the fate of their domain. The advent of railways
in the early 19th century brought about unprecedented change to nearly all parts of
Britain. They provided a much faster means of transport and communication between
places, carrying news and ideas as well as people and parcels.
Nobody dared to ​imagine such rapid and comprehensive transformation.
Similarly, with a model railway, you can make exciting stories that may seem incredible in our own world!
Author Elisha Cooper describes the train as 'a small world moving through a larger world'.
Whether conveying passengers or goods, every train contains a great wealth of personal stories which temporarily come together in the context of the journey. Recreated in miniature, the possibilities for brief encounters between these strangers on a train are almost without bounds. With layer upon layer, world within world, model railways can bring to life a great range of stories, reenacting historical events or fictional dramas.
Community
For many years model companies used images of fathers and sons to market their products. However, model railways have never been confined to men and boys alone – not all modellers wear anoraks and smoke pipes! They transcend generations, and can be passed down through families, providing a basis for conversation and collaborative work.
When George Orwell wrote, 'We are a nation of flower-lovers, but also a nation of stamp-collectors' he was referring to our insatiable appetite for hobbies. Model railways in Britain are part of a rich culture of hobbies, which provide an outlet for our creativity and a space in which to develop new skills and meet new friends. These activities, undertaken in our own free time, can be either a diversion from 'ordinary life' or an extension of it. Whatever the case may be, hobbies are undoubtedly important to many of us.
Though most model layouts are essentially private, situated in homes, that does not mean that it is a solitary hobby. Magazines and websites provide forums for like- minded modellers to share their ideas and creations. Likewise, an extensive network of clubs and societies allow enthusiastic individuals to meet with fellow modellers and friends. Of course, model railway shops are also an important part of this community. Here at Rocket Railways we are always delighted to meet familiar faces as well as new ones.
Conclusion Our love for model trains seems certain to endure for years to come. Model railways give us freedoms and opportunities not otherwise available in the full-scale world. It is a hobby which attracts a diverse range of individuals, with modellers of all ages and backgrounds. Famous railway modellers past and present include Rod Stewart, Tom Hanks, Walt Disney, Michael Jordan, and David Hasselhoff. Model railways may either imitate life in our own age and location, transport us back in time, or even explore alternative realities. However, whether based on historical evidence or fiction, the models are still real in themselves. They have a life of their own, as creations of the modeller. Unlike computer simulation games, models are tangible.
Whether running around a simple train set or a sophisticated layout, the trains are real… only really small.
600600